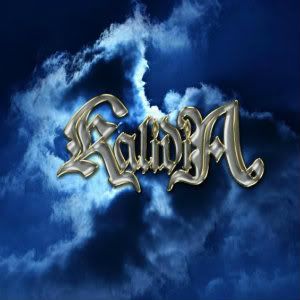 With the amount of time we have spent reviewing great metal bands from Italy, we wouldn't be completely crazy to think that the entire population has a band or two of their own. And while some aren't quite ready for primetime, relative newcomers Kalidia are proving to be a force. Formed just shy of two years ago, this five piece have already shown a command over the power metal genre, crafting tracks that would be difficult for even the most seasoned of bands. On their debut EP, "Dance Of The Four Winds" they give you four tracks of classic power metal that may launch them into the up stratosphere of their country, and their genre.
Subscribing to the assertion that you may as well hit with your biggest punch first, "The Lost Mariner" blasts into action with a thick layer of keys and symphonics. Joined soon after by the drums, bass, and guitars, you have already been hit by a tidal wave before you even enter the meat of the track. Vocalist Nicoletta Rosellini manages to take things to an even higher level, with a voice that is both powerful and full of energy. Her voice, much like that of Nightwish's Annette Olzen, is accessible for the casual fan, without being overbearing. Instead, she complements each musical passage well, leaving the door open for the true "team" effort. Trading solos, guitarist Federico Paolini and keyboardist Nicola Azzola complete the well rounded sound, especially when backed by the top notch rhythm section of Alessandro Cecchini and Roberto Donati. The track, topping the six minute mark, flies by as if it was a mere three.
Rather than take a step back, the band moves forward, as "Winged Lords" wastes no time getting to the heart of the matter. The classic power metal sound permeates all, with rolling double kicks and surgic ally precise snare/cymbal rolls. The vocal progression is delightful, giving you a bounty of emotionally charged lyrical content, and a delivery that is sure to move you. The bass line, not to be ignored or downplayed, is the perfect way to drive the track ahead, smoothly and soundly. Bursts of symphonics over wailing guitar riffs provides the perfect vessel for a rich vocal harmony. It would seem odd to say that "Reign Of Kalidia" carries a much darker edge than the previous tracks, but there is an element of evil present in the beauty. There are some catchy riffs to be digested here, the trademark of all great power metal, and Paolini does just that with expert hands. But as each chorus hits, the massive waves of drums are the star, rolling through with a rumbling low end, one that matches with Rosellini's voice. As they handle the lower register, a guitar solo that hits the higher octaves screams through, setting you up for the final burst.
The finale, while certainly a more subdued one than you might have expected, shows a more complete side to the band. "Shadow Will Be Gone" gives you a taste of the versatility at play, whether it be in the different tempos and time signatures, or just in the individual performances. Rosellini flexes her vocal muscle, despite the more ballad-esque style, and places herself squarely in the vein of some of the top names in the female metal community. Once again, Azzola adds the perfect touches of keys to it all, even without dramatically altering the flow of the song. Subtle pieces work best here, and he manages to be impactful without disturbing the balance. A short, but altogether successful guitar solo brings it all full circle, allowing the track to return to it's foundation and cruise to a finish.
For a band that hasn't even reached its second birthday, there is certainly a veteran sound to this debut. Kalidia have found their groove, found their niche, and are making it all seem easy. This isn't to say there aren't small bits that can be improved, slight touches that will most definitely be ironed out after some time together. But what we do have is a band that is ready to take themselves to the next step in the process, one that will catapult them to the top of an increasingly competitive Italian metal scene. But with the vocal command of a strong frontwoman, and the textbook display of musical control, "Dance Of The Four Winds" may be just the EP to get them there.
8.5/10
Myspace -
http://www.myspace.com/kalidiaband
Facebook -
http://www.facebook.com/KalidiaBand